Quality Management System
Paramit's Quality Management System is based on requirements stated in ISO 9001, ISO 13485,  cGMP/QSR/21 CFR 820, Japan PAL, and Korean GMP standards.
For over four years, Paramit has achieved virtually zero-defects (<1 DPMO) in mechanical assembly. In SMT assembly, we've achieved 9 DPMO for over eight years, surpassing the industry best in class standard of 30 DPMO. Paramit's defect prevention processes include:
Design for Manufacturability (DFM) review and Failure Modes & Effects Analysis (FMEA) are performed during New Product Introduction (NPI) on every product.
Tightly controlled, closed-loop work cells and stop-on-defect processes that are key to quickly identifying and resolving all issues that impact product quality.
Design and execution of state-of-the-art test solutions to verify the integrity of PCAs. Our team of electrical engineers with design-level experience create functional tests and train operators.
Real time resolution of issues when they occur by manufacturing engineers. Paramit's engineers are never more than a few steps away from the operators on the line, which allows for better communication and workflow.
Validations (IQ, OQ, and PQ) performed in our qualifications plan for PCBAs and instruments are achieved consistently in the production phase.
vPoke Mechanical Assembly
Paramit builds all subassemblies and completed systems using our computer directed assembly technology called vPoke. vPoke controls all inputs into basic elements of work, forces conformance to established criteria and sequences, and automatically documents a device history record (DHR) for future reference during internal reviews and external inquiries. This virtually eliminates all variability associated with the complex, error-prone manual assembly sequences commonly used in medical devices and life science instrumentation manufacturing.
FDA QSR
Design History File
Device Master Record
Human Factors Analysis
ISO 9001 Certified
Take product to CE mark
IEC 60601 and 61010
Documented Design Standards
ISO 13485
ISO 9001:2015 – UL DQS Registration Number 10002924 QM15
ISO 13485:2016 – UL DQS Registration of Quality Systems for Medical Devices. Registration Number 10002924 MP2016
FDA/GMP – FDA Registered Number 3003537036
State of California – Medical Device Manufacturing License Number 50087
IPC Certification – Lead Free Electronics Assembly Process Capable
Product safety compliance with UL, TUV, CSA, ETL and NEMKO certification
aaaaaaa
The Quality Council is a cross-functional team that meets regularly and practices the philosophy that "quality is everybody's business." A wide representation of members gives the council expertise and authority to implement solutions for issues involving all aspects of the operations.
The council facilitates QMS activities, such as ISO/internal audits, customer complaints, management review, quality data review, CAPA, compliance program, training, process improvement, and higher-level strategic initiatives.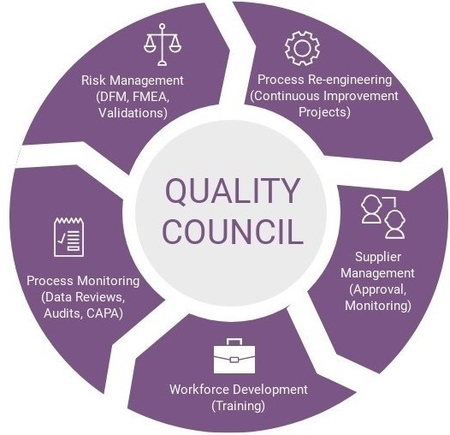 Failure Modes
&

Effects Analysis (FMEA)
Paramit makes every effort to be proactive rather than reactive, preventing or reducing undesired effects and promoting continuous improvement. Paramit uses a risk-based thinking process and performs a systematic approach to risk rather than treating it as a single component of a quality management system.
Paramit utilizes the Failure Modes and Effects Analysis (FMEA) process to identify potential manufacturing failures, determine their effect on the quality of the finished product, and identify corrective actions to mitigate these risks. A key goal in the FMEA process is to reduce or eliminate complexities which drive manufacturing costs up or present potential quality concerns. Although it isn't feasible to anticipate every possible failure, our Design for Manufacturability (DFM) review in combination with FMEA lets our manufacturing engineers create a prioritized action list which results in a much higher quality product.
FMEA exposes weaknesses and potential failures by assigning values to the severity of the failure should it occur, predicting the probability that the failure will occur, and then evaluating the likelihood that testing will detect the failure before the product advances to the next stage in the manufacturing process. Early and consistent use of FMEA in the DFM review process lets us or client engineering teams design out failures, reduce risks, and build reliable, safe, best-in-class products.